To the sneakerhead, unboxing a pair of legendary shoes is a delicate ritual. New sneakers are more than footwear: they are your lovechild, your deity, an expression of your passion. Son, father, and holy ghost.
Classic sneaker guru Michael Sykes agrees that new sneakers can be more about identity than fashion. Aged 15, Sykes worked a bunch of dull teenage jobs, toiling to "scrounge up enough change to buy a pair of Aqua Jordan 8 shoes."
"That was the first sneaker I bought with my own money, and it was so liberating," explains Sykes. "I felt fly, but more importantly, I felt proud of myself. I'd set a goal to get these shoes, and I reached it."
While carefully curated sneakers are a status symbol (and also an investment opportunity), they are not a statement about wealth. Sneakers are symbols of style, knowledge, commitment, community. If you can find your coveted shoe at cut-rate prices, all the better.
So, now that cheap travel and online shopping mean you're no longer restricted to your local store, CashNetUSA wondered if it's worth ordering your legendary sneakers from a far-flung land.
We shortlisted the world's most influential sneakers and mapped their prices using the official brand websites in every country where they're available. We also calculated how affordable each shoe is around the world using the World Bank's monthly average wage data – and you can compare international affordability using the chart at the bottom.
Puma Suedes
The tactile Puma Suede was launched as the Crack (i.e., the 'best') ahead of the 1968 Olympics in Mexico. Puma intended athletes to wear the shoe on the podium with the first-ever Puma tracksuit. Its special shell sole was suitable for basketball. Puma later renamed the Crack for Walt "Clyde" Frazier – who asked for a new color for every game (supposedly wearing over 390 different hues). The Puma Clyde became the Suede after Frazier's contract ran out and soon became one of the definitive hip-hop sneakers.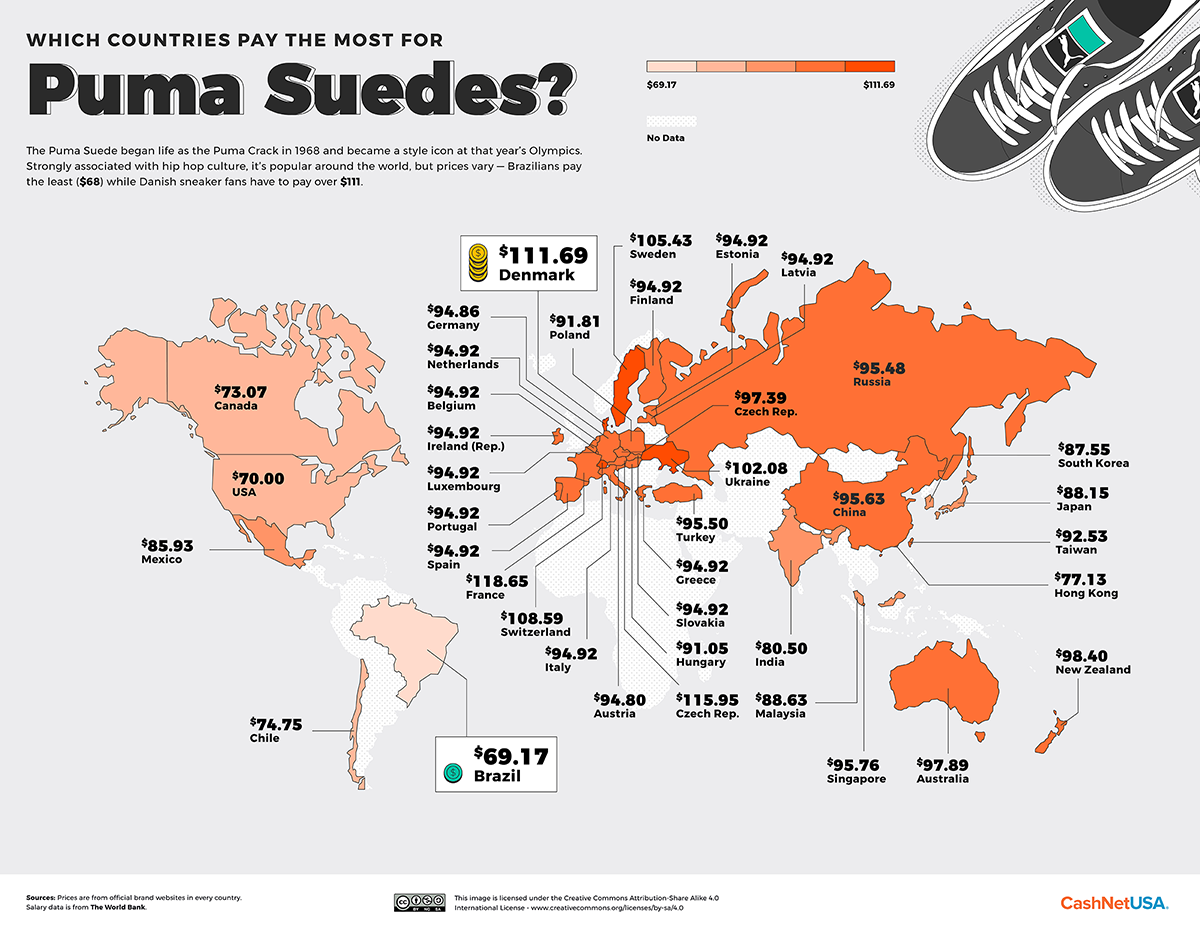 Brazil is home to the cheapest Suedes – a snip at $69.17. But American sneakerheads also get a treat with the second-cheapest price of $70. There are four territories where the Puma Suede costs over a hundred bucks, and they're all in Europe: Ukraine, Sweden, Switzerland, and the world's number one, Denmark ($111.69).
Adidas Stan Smiths
The Stan Smith was first named after Robert Haillet, a French tennis player handpicked for sponsorship by the son of Adi Dassler. The shoe was already booming due to the high-tech edge the leather upper and herringbone rubber sole gave on the court. But it became a bona fide classic on the feet of Stan Smith, an American legend in the making who took over after Haillet's retirement. This sneaker's simple but effective appeal is universal, with famous ambassadors including Jay-Z and Pharrell Williams. "I wish I'd kept the first ones," Smith recently told Esquire.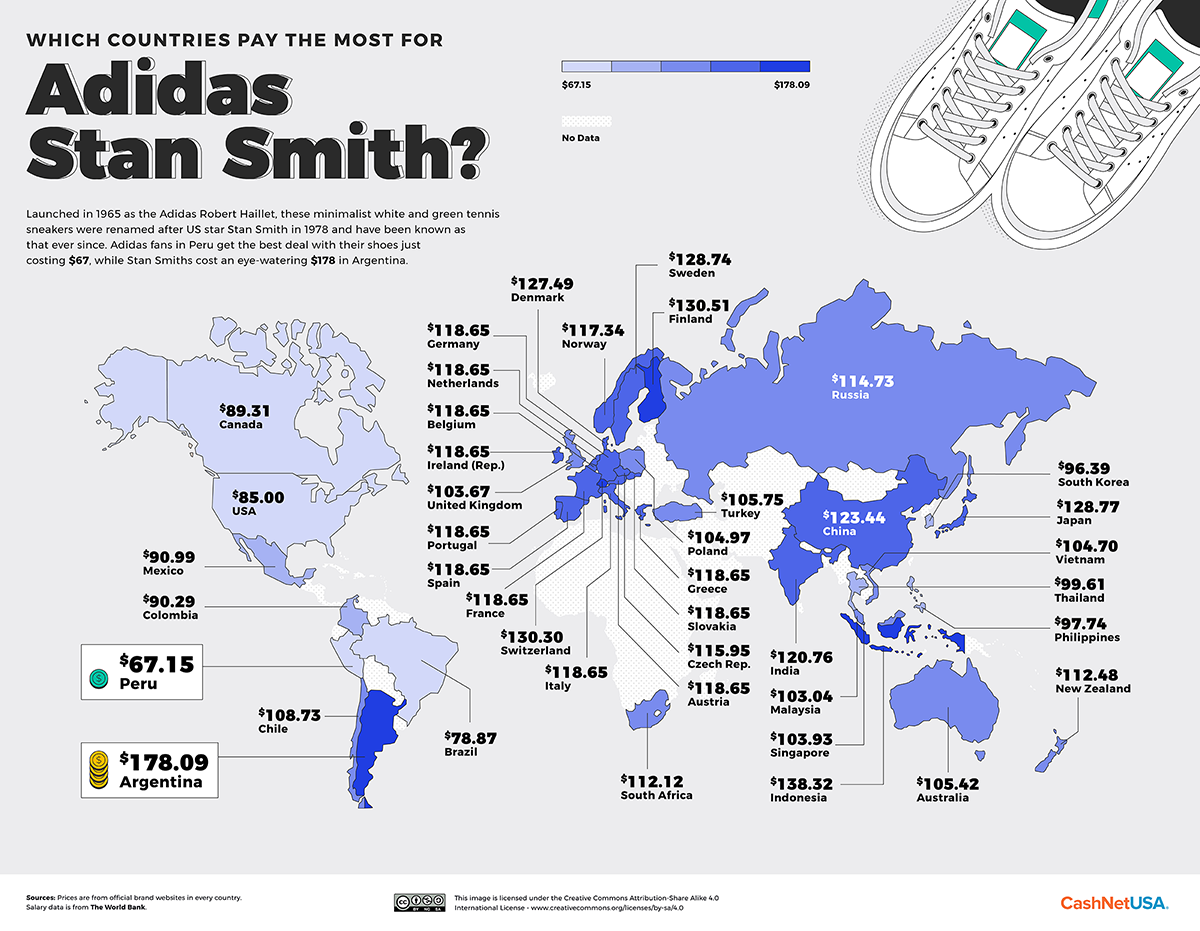 This American icon costs $85 in its home country, the third-lowest in the world – pipped by Brazil ($78.87) and Peru ($67.15). Argentina serves up a doozy with the most expensive Stan Smiths in the world ($178.09), practically $40 more than second-placed Indonesia ($138.32).
Nike Air Force 1s
The AF1 was a practical basketball design that happened to look fly. The shoe had two early boosts: an iconic 1982 photoshoot with Moses Malone, Michael Cooper, Jamaal Wilkes, Bobby Jones, Mychal Thompson, and Calvin Natt; and a brainwave by three Baltimore sneaker store owners to request exclusives from Nike. The shoe became a cult hit in Baltimore. The obsessive fandom it generated saved the AF1 from being dropped – allowing it to become a hip-hop talisman in the '90s and inhabit a wide range of colorways in the 21st century.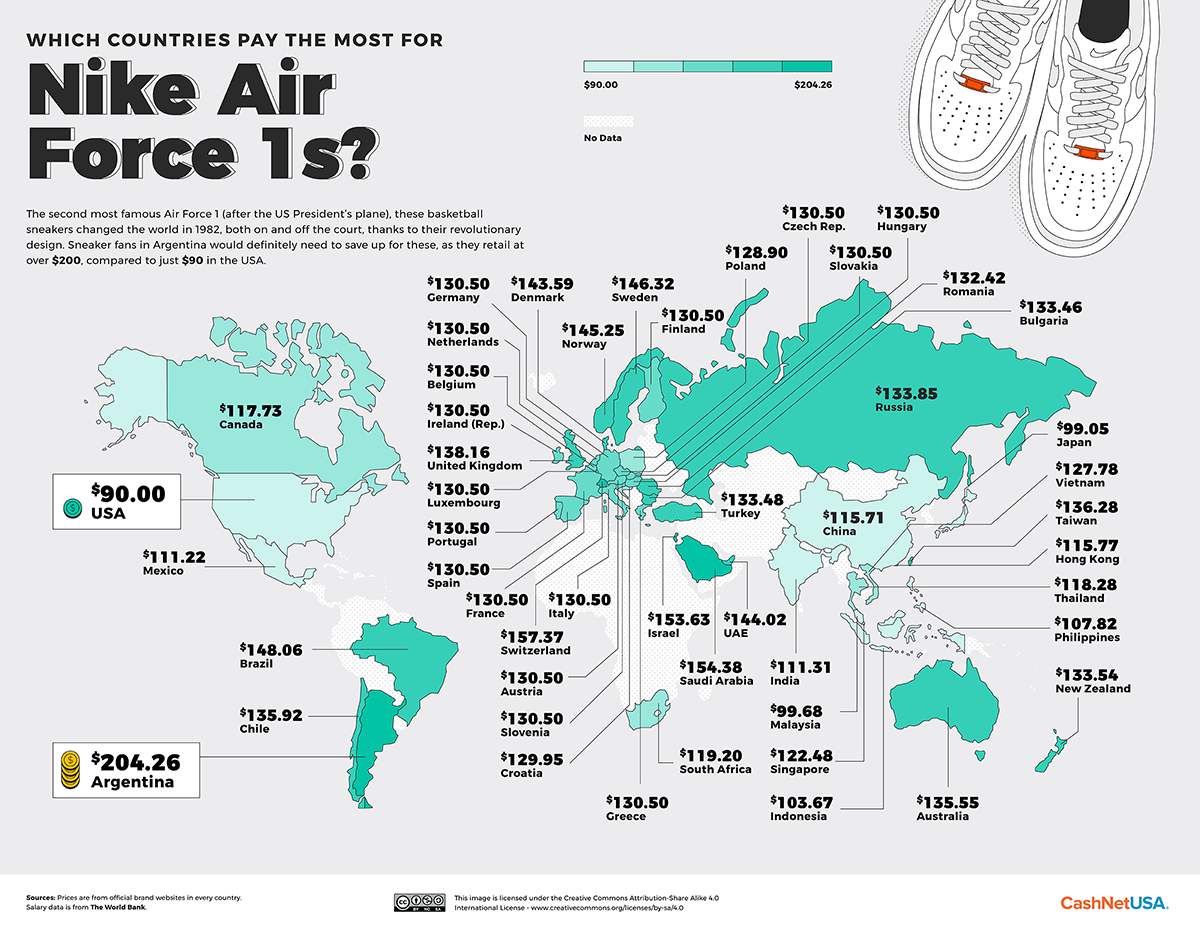 The US has the privilege of the cheapest AF1s at $90. However, if your variety of choice is over the border in Mexico, you won't break the bank with an asking price of $111.22. Argentina shoots for the hoop with an astonishing $204.26 price tag. There are also three countries with shoes for a slice over $150: Israel, Saudi Arabia, and Switzerland.
Converse Chuck Taylor All-Stars
1917. That's when this shoe was born. Sure, it didn't get its name until 1932, when basketball player and Converse employee/enthusiast Charles H. Taylor got his name emblazoned on the ankle. But 1917! Converse had previously focused on making rain boots and intended their All-Star to be "wholesome." But, like the Stan Smith, the normcore design was widely transferable, later adored by punks, rappers, and skaters. And all this despite the fact that, until the Chuck II (nearly 100 years after the original All-Star), the thing wasn't even comfortable to wear.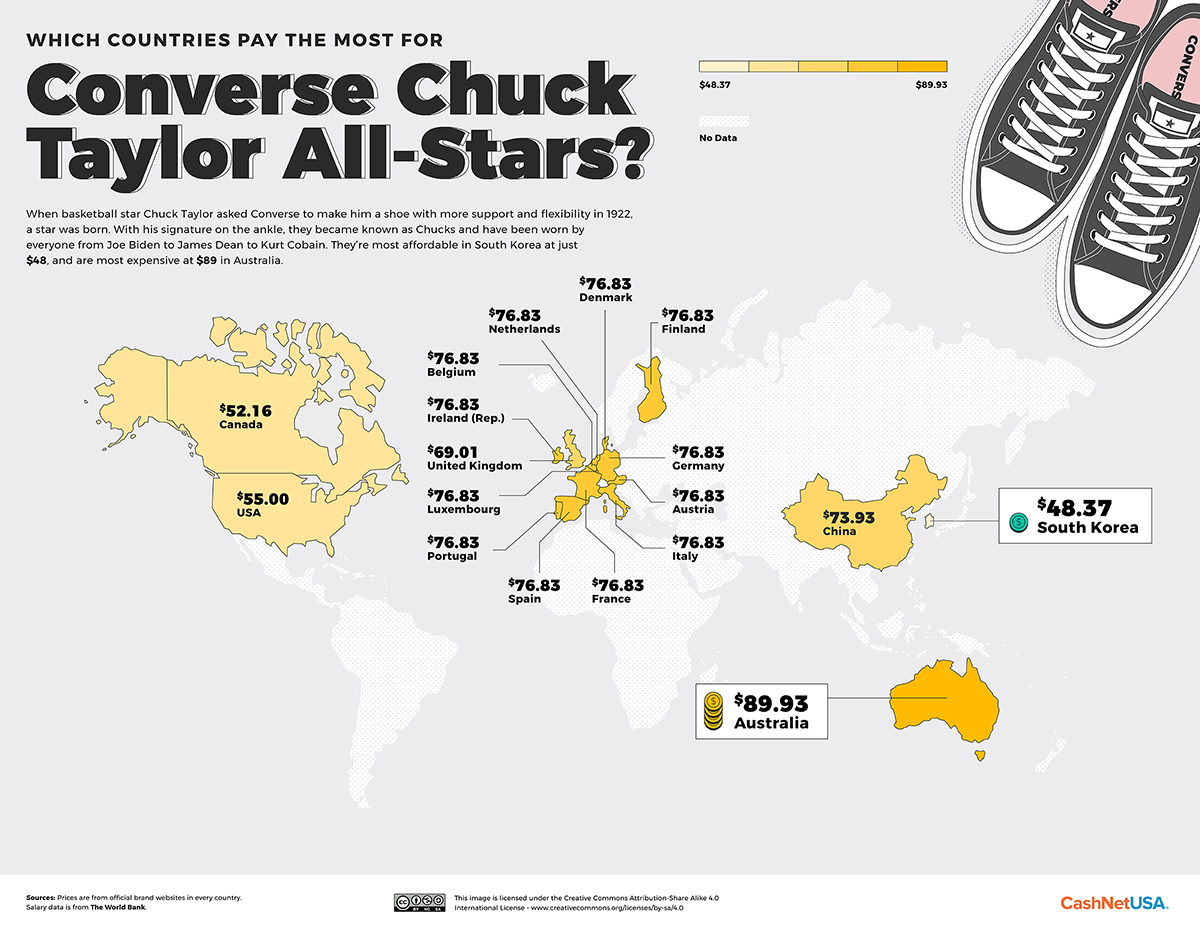 A pair of Chucks will set you back just $48.37 in South Korea. Canada, the US, and the UK don't charge much more. But in general, Chuck Taylor All-Stars are not an expensive shoe: Australia has the priciest ($89.93), and second-placed Denmark is significantly cheaper than that, at $76.83.
Nike Air Jordan 1s
Michael Jordan didn't like Nike. He liked to play in Converse Chucks. But Nike liked Mike. They convinced him they could make a more 'Chuck-ish' basketball shoe and create a Michael Jordan megabrand. He agreed. Nike's next move was to capitalize on an urban myth that the NBA fined Jordan $5,000 every time he played in his black and red Jordans because they broke league uniform rules. This wasn't strictly true, but folks love an outlaw, and the first Air Jordan 1 – nicknamed the 'Banned' – sold out at a then-expensive $65 per box.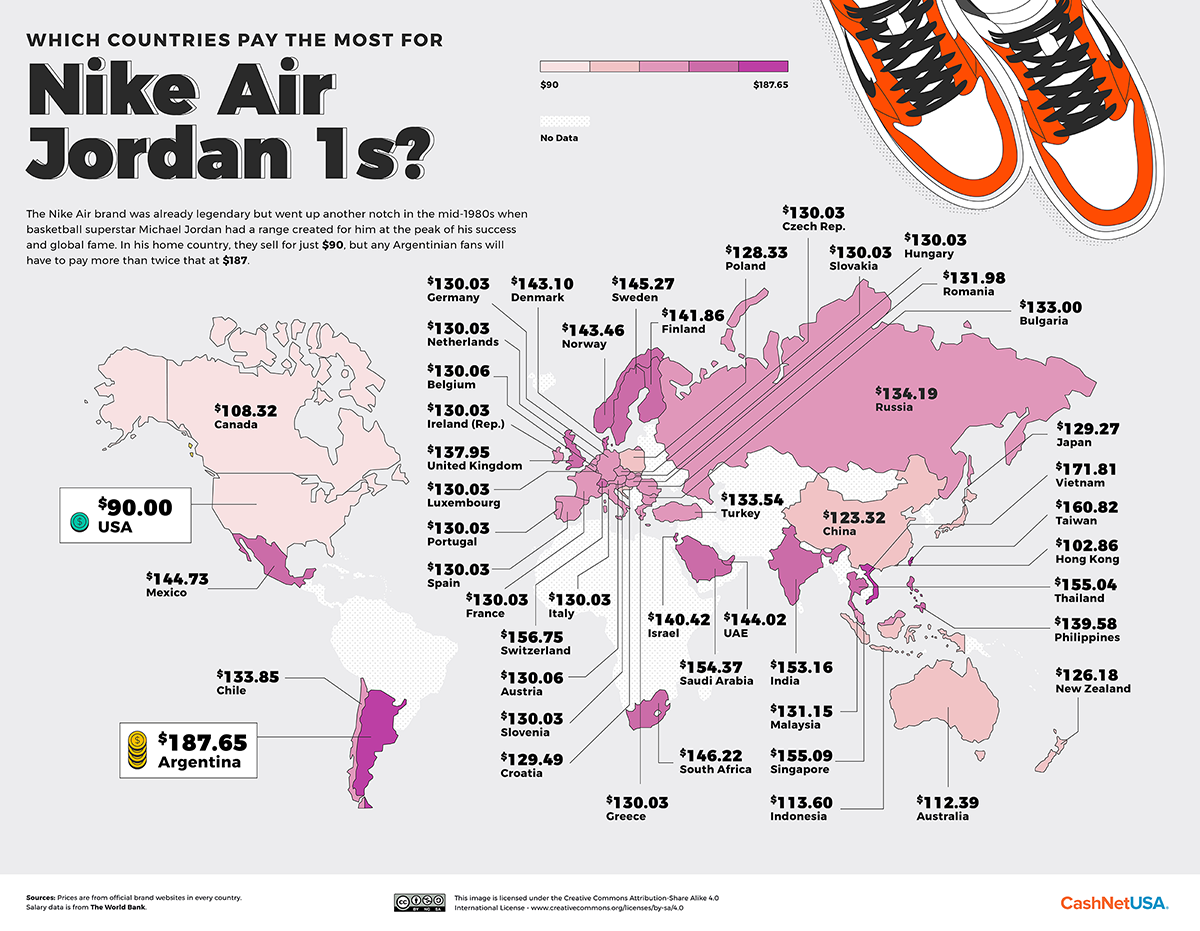 Taking inflation into account, $90 isn't much for a pair of Jordans in the US in 2021 – in fact, it's the cheapest in the world and the only country where they cost under a hundred bucks. Argentina is, again, the priciest, billing more than twice the American tag at $187.65.
Adidas Superstars
While Nike tends to offer 'Christmas tree' sneakers adorned with striking flourishes and innovations, Adidas's vintage feel and basic three-stripe logo allows for legendary shoes that your uncool dad might buy by accident. The Superstar is no exception. In 1969, Adidas's second basketball shoe was a leather rebuff to the fast-dating canvas Converse. Within half a decade, three-quarters of the NBA were playing in the Superstar. In the 1980s, Run-DMC took the baton and ran with it, signing a sponsorship deal after bigging up the brand in song and in concert (check this footage!).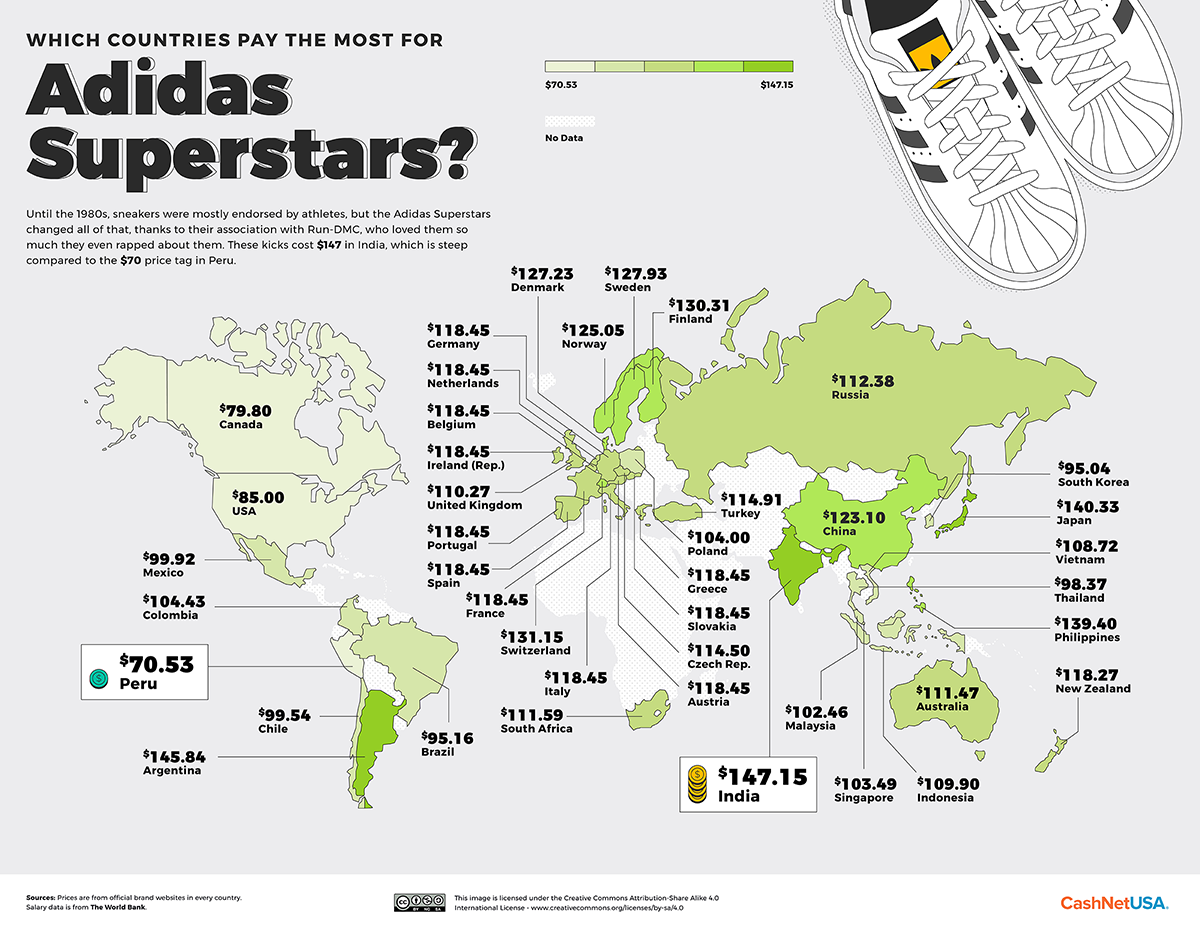 Peruvian Superstars are the world's cheapest, retailing at $70.53 – fifteen bucks less than in the US. Japan ($147.15), Argentina ($145.84), and India ($147.15) charge twice the price of the world's cheapest Adidas Superstars.
New Balance 574s
New Balance is hardly a perennial favorite – but it is a modern classic. The brand has rebounded as a sneakerhead must-have and popular seller after decades of being a bit uncool. But the 1988 574 has been a bit of a pot-boiler all along, combining comfort with a graphic style that promotes colorway innovation. In fact, the 574 was originally created as a cheaper, simpler mass-market trainer. But like other classics, this made it a 'shoe of the people,' and it was only a matter of time before the brand would click into place. Bonus fact: the manufacturer started in 1906 as the New Balance Arch Support Company, creating shoes inspired by the poise and elegance of chickens.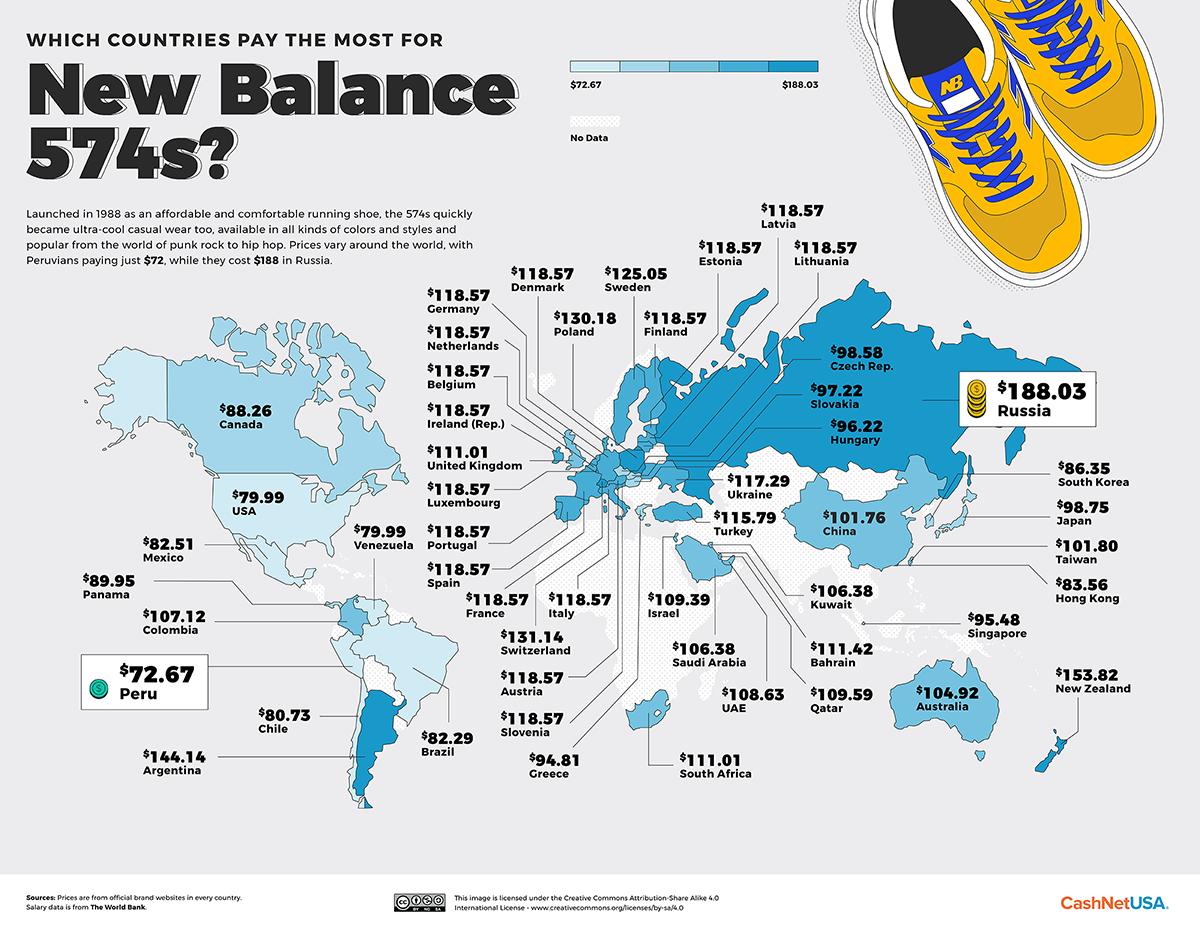 Once more, Peru is the cheapest territory for this classic shoe ($72.67). This time, Peru is followed by the US and Venezuela, tied on $79.99. But there's a new entrant at the expensive end of the table: Russian 574s are the most expensive in the world, at $188.03 – over 30 bucks more than second-place New Zealand.
An affordable sneakers index
Absolute price tags are one thing, but how much does it cost to buy these shoes compared to local wages? We used World Bank data to figure it out. Use this table to find how your favorite sneakers measure up in different currencies. You'll find, for example, the US has the most affordable Jordans, costing just 1.95% of the average monthly wage.
Methodology and sources
We shortlisted the most influential sneakers around the world with the help of articles such as this one and this one. Shortlist in hand, we gathered sneaker prices from the official brand websites in every country available. Lastly, we calculated these as a percentage of the monthly average wage using The World Bank's 'adjusted net national income per capita' data to work out the affordability of each shoe around the globe.
This article is from Cash Net USA.